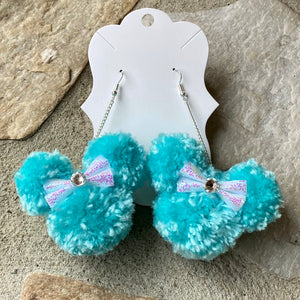 Tiffany Mouse Pom Pom Earrings
These super light hand made Minnie pom pom earrings inspired by the style icon Minnie Mouse herself, with a little bit of Tiffany & Co flair. Tiny hand made iridescent bows on the front and back with Swarovski crystal center rhinestone.
If you need to change the hardware color to gold or silver, let me know in the notes.
*Stainless steel hardware.
*Note: This is a handmade item, handle with gentle care. Some parts may be considered a choking hazard. Please don't leave children unsupervised.
*Not affiliated with Disney
*Not affiliated with Tiffany & Co
*Color Variation: Please note that the colors you see on the screen can be significantly different than the actual product. There are many variations in monitors and browsers and your specific equipment and settings will affect the color you see on the screen. The pictures are representative and cannot reflect with 100% accuracy the color of the products as they actually are. They pictures will be close, but variation is to be expected and returns will not be accepted for color variation. 
Please feel free to ask questions